GeorgiaCarry.org is proud to announce this year's guest speaker for our 3rd Annual Convention August 5 & 6.
Dr. Suzanna Gratia Hupp, a former Republican member of the Texas House of Representatives and a recognized public advocate for the Second Amendment and an individual's right to carry a concealed weapon.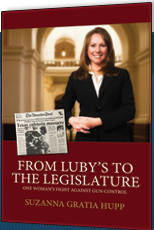 Dr. Hupp is known to many of us for what happened to her on Wednesday, October 16, 1991. Suzanna and her parents were having lunch at Luby's Cafeteria in Killeen, Texas, when a man drove his truck into the restaurant and opened fire on the patrons. Suzanna instinctively reached into her purse for her handgun, but realized it was in her vehicle, as a new law was passed in Texas banning the carry of a concealed weapon. Suzanna escaped out of a broken window, but 23 unarmed others, including Suzanna's mother and father, were killed at the hands of the gunman.
Suzanna states "I'm not mad at the guy that killed 23 people that day. How can I be mad at a rabid dog? I don't blame guns. I blame politicians that legislated away my right to carry a gun to protect myself and my family."
Visit her website at: http://www.suzannahupp.com/
You do not want to miss this year's GeorgiaCarry.org convention !
When: August 5 & 6, 2011
Where: The Renaissance Waverly Hotel
2450 Galleria Parkway
Atlanta, Georgia 30339 USA
Ticket reservations and the full schedule of events will be announced at a later date.