The winner of the Henry Big Boy Rifle is GCO member Andrew Dole, a paramedic from Athens.  Andrew has been a member of GCO since March, 2008.  Below is a picture of the lucky winner along with GCO Diamond Corporate Sponsor and Owner of Autrey's Armory in Fayetteville, Ben Autrey.  Ben donated the rifle and our newest Platinum Sponsor, GT Virtual Concepts in Newnan donated the beautiful engraving of the GCO logo.

L-R GCO Member Andrew Dole, Ben Autrey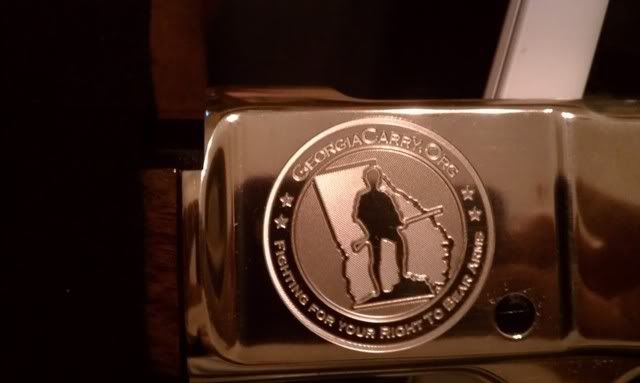 The engraved logo on the Henry Big Boy Rifle has been programmed into a CNC machine and is easily reproducible from GT Virtual Concepts in Newnan. Contact Golda for pricing.
Andrew commented that this was the first thing he had ever won and only bought the ticket the day before the drawing.  He stated he figured he was only donating his money to GCO, which he did as did everyone who bought tickets.  Thanks to all who enter the raffle!  Congratulations to Andrew Dole and many thanks to Autrey's Armory and GT Virtual Concepts for their generous donations to this fundraiser.